Product Description
Material: In glass material
Color: Clear
Standard: 3ml luer lock
High clarity barrel convenient for observation of medication;
The scale ink adhesion is strong, not easy to erase.
Stopper made of special rubber material, which excellent sealing and sliding properties.
EO gas sterilized, non-toxic, pyrogen-free.
Package: PE bag or Blister package.
Extractable metal content, pH, easy oxide, ethylene oxide residue                                                                                                                       No heat source, no cytotoxicity, no skin sensitization, no skin irritation, no acute systemic toxicity, no hemolytic reaction
Syringe:scale line, scale volume line, number on scale line, number printing, coat, hand spacing, piston, cone head, sliding performance, body tightness, capacity tolerance, residual capacity
Injection needle:size, rigidity, toughness, corrosion resistance, lubricant, inner wall of needle tube, needle seat, puncture force
Product Features
 * Structure: It consists of barrel, plunger, piston and hypodermic needle. The hypodermic needle is an optional accessory; the barrel and plunger are made of polypropylene and the piston is made of rubber.
 * Style: central head type, off-center type and luer lock type;
 * Function: This product is suitable for subcutaneous, intradermal, intramuscular, intravenous injection, etc., or the use of liquid medicine;
 * Specification model: 1ml, 2ml, 5ml, 10ml, 20ml, 25ml, 30ml, 35ml, 50ml, 60ml;
 * Supporting injection needle specifications: 0.3, 0.33, 0.36, 0.4, 0.45, 0.5, 0.55, 0.6, 0.7, 0.8, 0.9, 1.1, 1.2mm.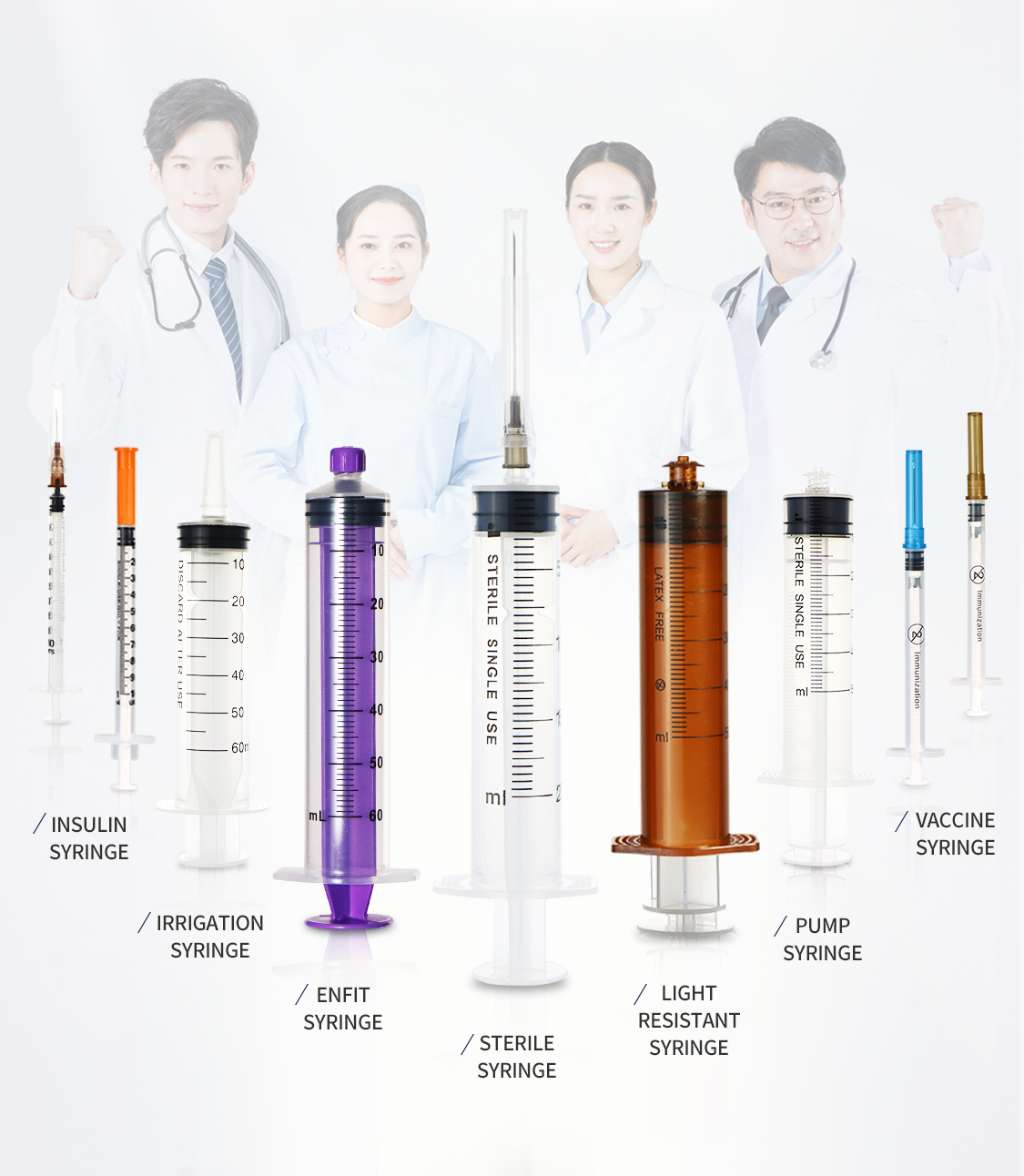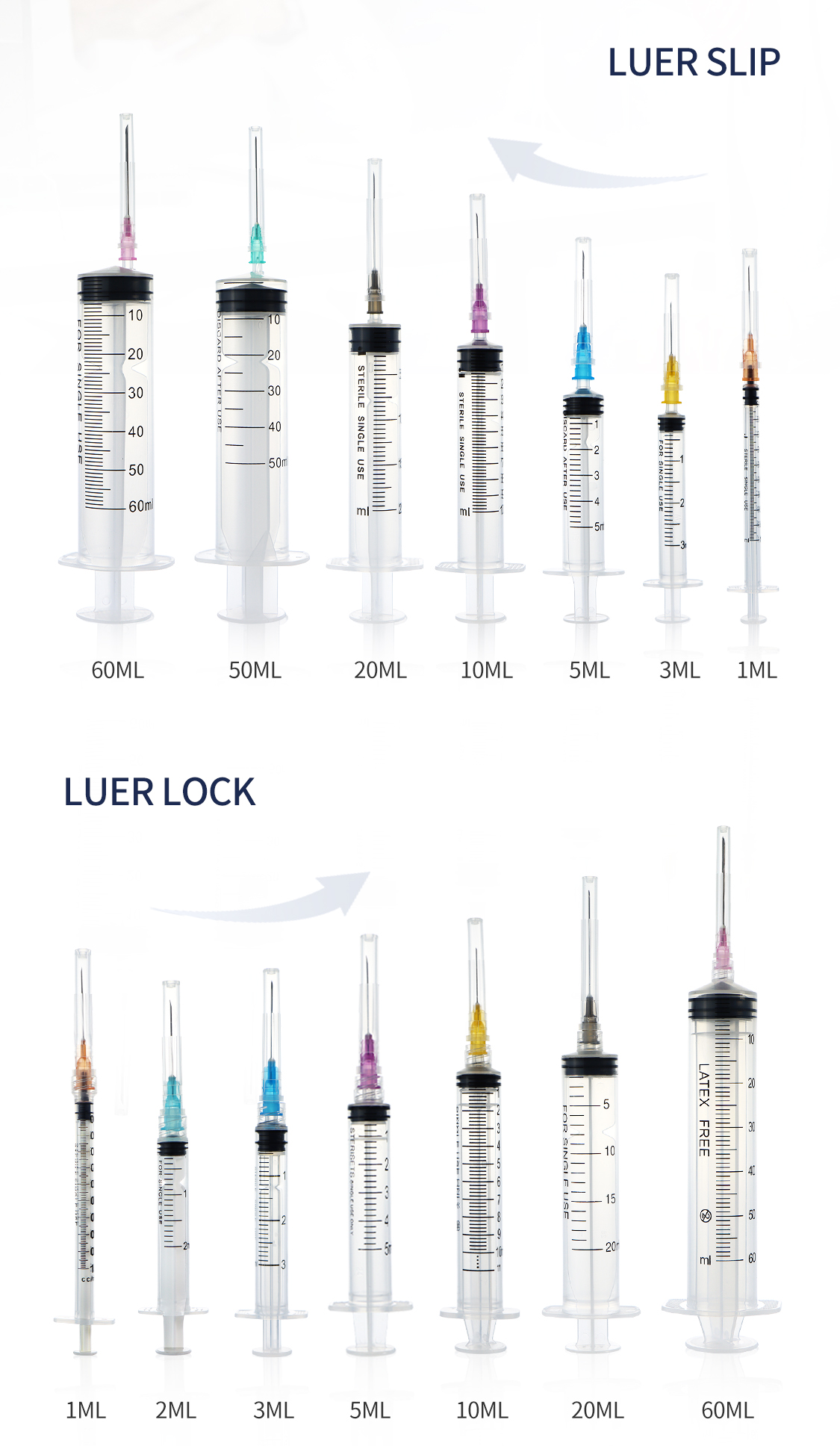 Product Use
1. PulI back the plunger to charge the syringe with solution.2. Press plunger forward to complete injection until it reaches the stop position. Lock mechanism will be activated and locks plunger in stop position. An audible"Click"will sound.
3. Forcing the plunger backward will cause it to break dispose safety in a disposable container.
Product Application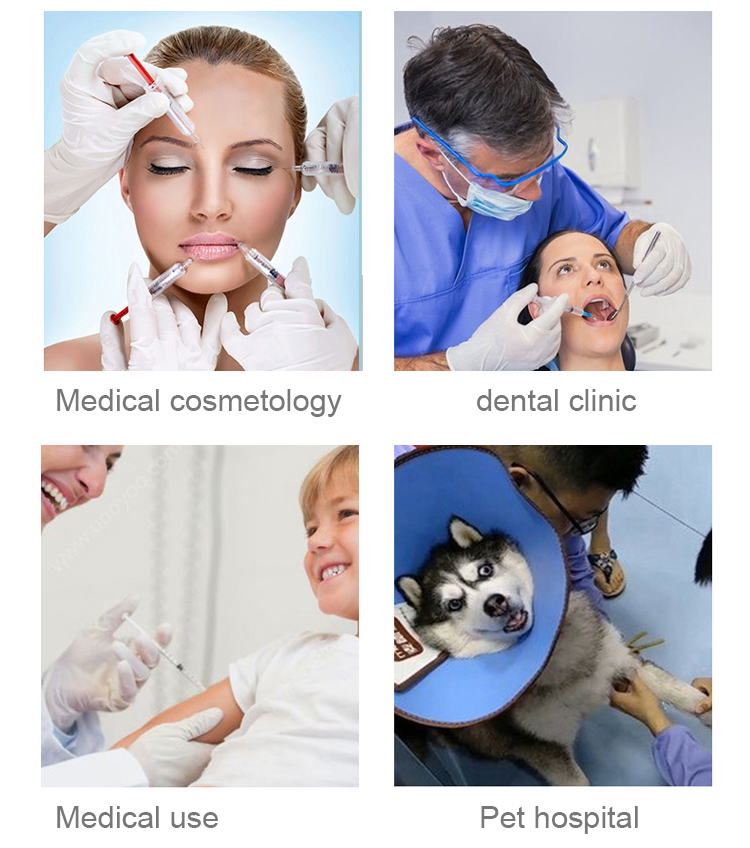 Product Specifications
| | | |
| --- | --- | --- |
| Glass Syringes Luer Tip | No. | Specifications |
| Glass Syringe (luer slip tip) | 1 | 0.5ml, centre nozzle |
|   | 2 | 1ml, centre nozzle |
|   | 3 | 2ml, centre nozzle |
|   | 4 | 5ml, side nozzle |
|   | 5 | 10ml, side nozzle |
|   | 6 | 20ml, side nozzle |
|   | 7 | 30ml, side nozzle |
|   | 8 | 50ml, side nozzle |
|   | 9 | 100ml, side nozzle |
|   |   |   |
| Glass Syringe (luer lock tip) | 1 | 1ml, centre nozzle |
|   | 2 | 2ml, centre nozzle |
|   | 3 | 5ml, centre nozzle |
|   | 4 | 10ml, centre nozzle |
|   | 5 | 20ml, centre nozzle |
|   | 6 | 30ml, centre nozzle |
|   | 7 | 50ml, centre nozzle |
|   | 8 | 100ml, centre nozzle |
View full details