Product Description
        It is a medical device that may reduce the layer of fat under your skin by using non-invasive controlled cooling. It is intended to affect the appearance of the submental area (otherwise known as the double chin), thighs,abdomen,flanks (also known as love handles), bra fat, back fat and fat under the buttocks (also known as banana roll).It is not a treatment
for obesity or a weightloss solution and it does not replace traditional methods such as diet, exercise or liposuction. It is not a treatment for weightloss or obesity.
Product Features
(1)4 major safety measures to ensure user safety 
(2)Humanized design highlights 
(3)All machines are independently developed, and the R&D team guarantees system upgrades, operation, and maintenance. 
(4)Functional modular design, easy to assemble, transport and maintain
Product Specifications
| | |
| --- | --- |
| Freezing Tempeture | 5℃ - -11℃ |
| Negetive Pressure Level | Level 1 - 10 |
| Screen | 10.4 inch colorful touchscreen |
| Duration | 1 - 60min |
| Refrigerating System | Semi-conductor cooling, water cooling and wind cooling |
| Electrical | 220 - 240 VAC, 50 - 60HZ, 1500VA |
| Dimensions (W*D*H) | 300mm*400mm*900mm |
| Net Weight | 30kg |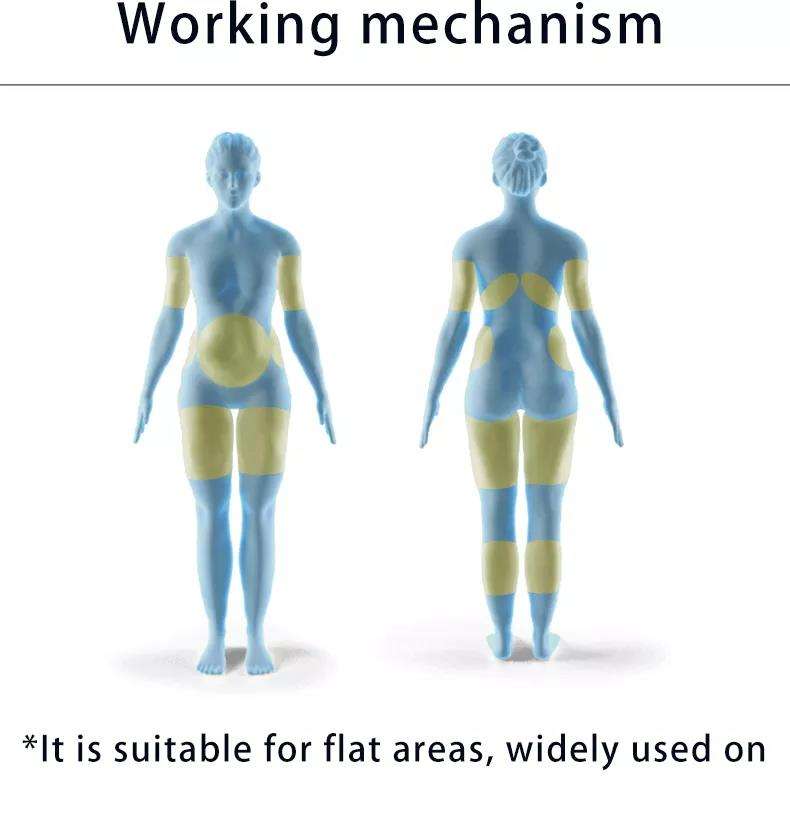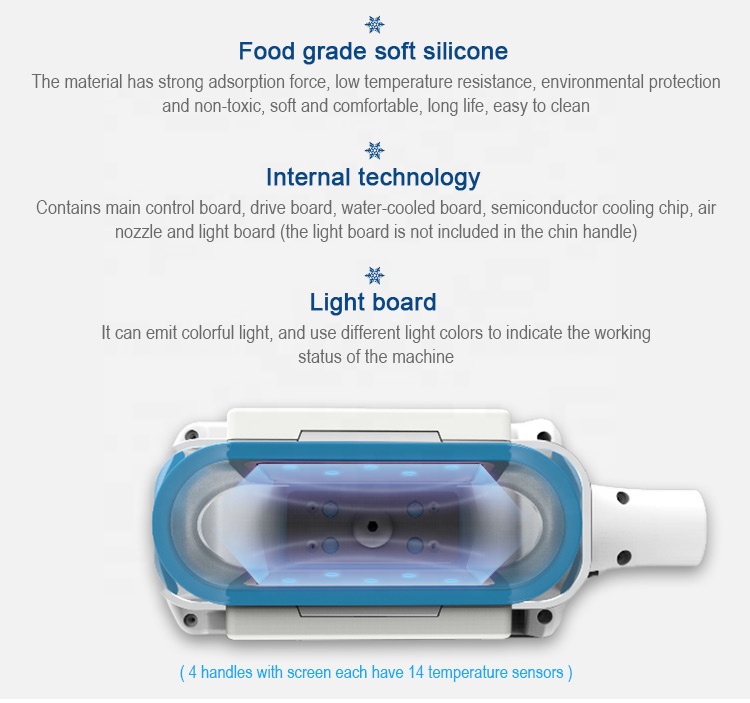 Product Advantages
(1) The handle cavity is made of food-grade soft silica gel, with strong material adsorption, low temperature resistance, environmental protection, non-toxic, soft and comfortable, long life, easy to clean
(2) The handle contains the main control board, the drive board, the water-cooled board, the semiconductor cooling plate, the air nozzle and the light board (the light board is not included in the chin handle)
(3) There is a light board inside the handle, which can emit colorful light, and use different light colors to indicate the working status of the machine, and at the same time highlight the sense of technology of the product.
(4) First treatment can eliminate 26%- 40% fat ;
(5) The latest technology in non-surgery mechanical beauty industry ;
(6) 4 treatment handles could working simultaneously ;
(7) One set device is equal to two sets old technology cryolipo machine. The cool slimming machine can help you reduce cost. It can be treated for 1~4 fat persons .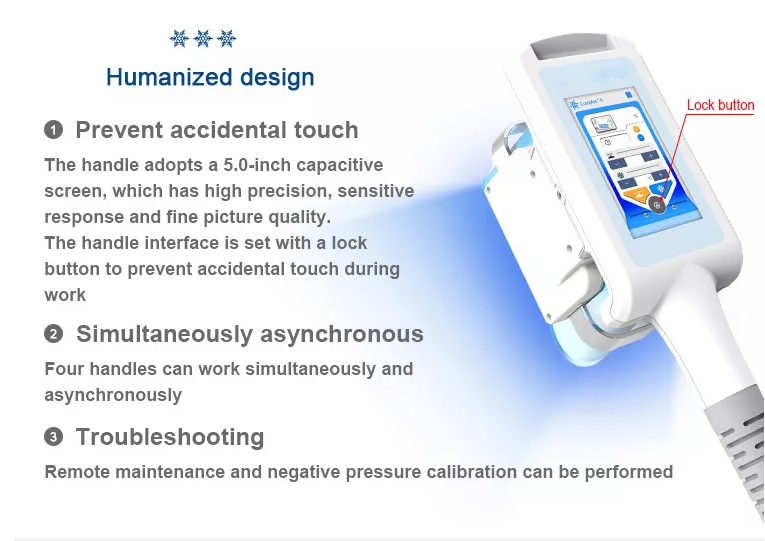 Working Principle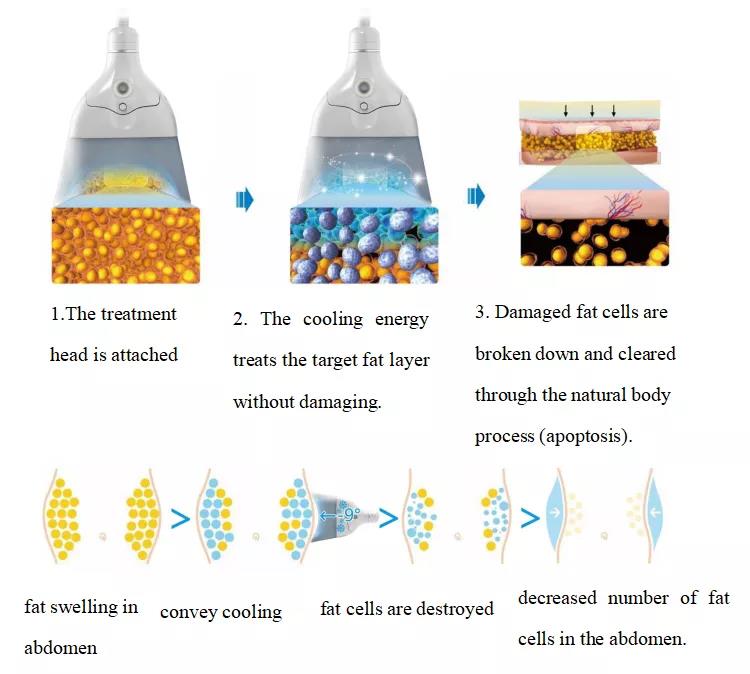 As triglyceride in fats will be converted into solid in particular low temperatures, it uses advanced cooling technology to selectively target fat bulges and eliminate fat cells through a gradual process that does not harm the surrounding tissues, reduce unwanted fat, When fat cells are exposed to precise cooling, they trigger a process of natural removal that gradually reduces the thickness of the fat layer. And the fat cells in the treated area are gently eliminated through the body's normal metabolism process, to eliminate unwanted fat. Precisely controlled cooling is applied through the skin to the fat layer, and eliminates local fat. The whole time of procedure is about 1~2 hour.
     Our technology utilizes the sensitivity of fat cells to cold injury in order to selectively eliminate subcutaneous fat tissue without affecting the skin or other  surrounding tissues. Cryolipolysis enables a non-invasive alternative for subcutaneous  fat reduction through cellular apoptosis.
Details Images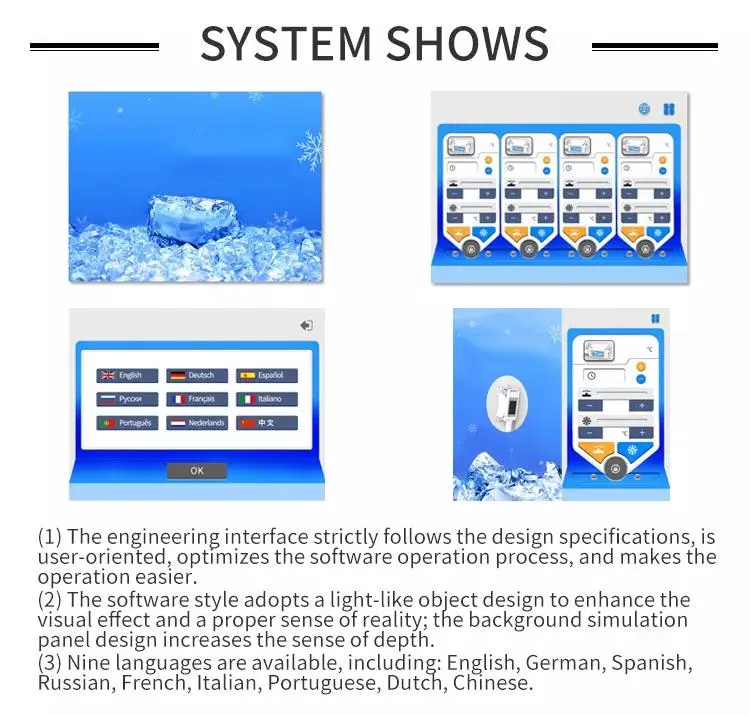 View full details