Product Description
Syringe is a common medical instrument, which is used to inject liquid medicine or other liquids into the human body. The basic structure of the syringe includes syringe barrel, syringe piston, syringe needle, needle head and other parts. Syringes can also be divided into various types according to the different drugs used, including disposable syringes, reusable syringes, self-destructive syringes, etc.

Compositions: barrel , plunger , piston , sterile hypodermic needle.
* Material for barrel and plunger: made of high transparent medical grade PP.
* Color of plunger:  white , Orange , Yellow , Red , purple
* Size: 0.3ml 0.5ml 1ml ,  U-30 U-40 U-50 U-100
* Ultra fine needle: 27G 28G 29G 30G 31G 32G 33G,  4mm 6mm 8mm 10mm 12mm
* Standard piston: made of natural rubber with two retaining rings. Or latex free piston: made of synthetic non – cytotoxic rubber (IR) , free from the protein of the natural latex to avoid possible allergy.
* Hypodermic Needle: high quality stainless steel , larger inner diameter , high flow rate , sharpness maximize , color code hub by size for clear recognition , produced .
* Needle Hub: made of medical grade transparent PP. semi-transparent hub of clearness of flashback.
* Needle protector: made of high transparent medical grade transparent PP.
* Lubricant: silicone oil , getting a smooth plunger movement.
* Indelible ink
* Blister or plastic package: medical paper and plastic film.
* Individually packing: PE bag(polybag) or blister packing.
Product Features
 * Structure: It consists of barrel, plunger, piston and hypodermic needle. The hypodermic needle is an optional accessory; the barrel and plunger are made of polypropylene and the piston is made of rubber.
 * Style: central head type, off-center type and luer lock type;
 * Function: This product is suitable for subcutaneous, intradermal, intramuscular, intravenous injection, etc., or the use of liquid medicine;
 * Specification model: 1ml, 2ml, 5ml, 10ml, 20ml, 25ml, 30ml, 35ml, 50ml, 60ml;
 * Supporting injection needle specifications: 0.3, 0.33, 0.36, 0.4, 0.45, 0.5, 0.55, 0.6, 0.7, 0.8, 0.9, 1.1, 1.2mm.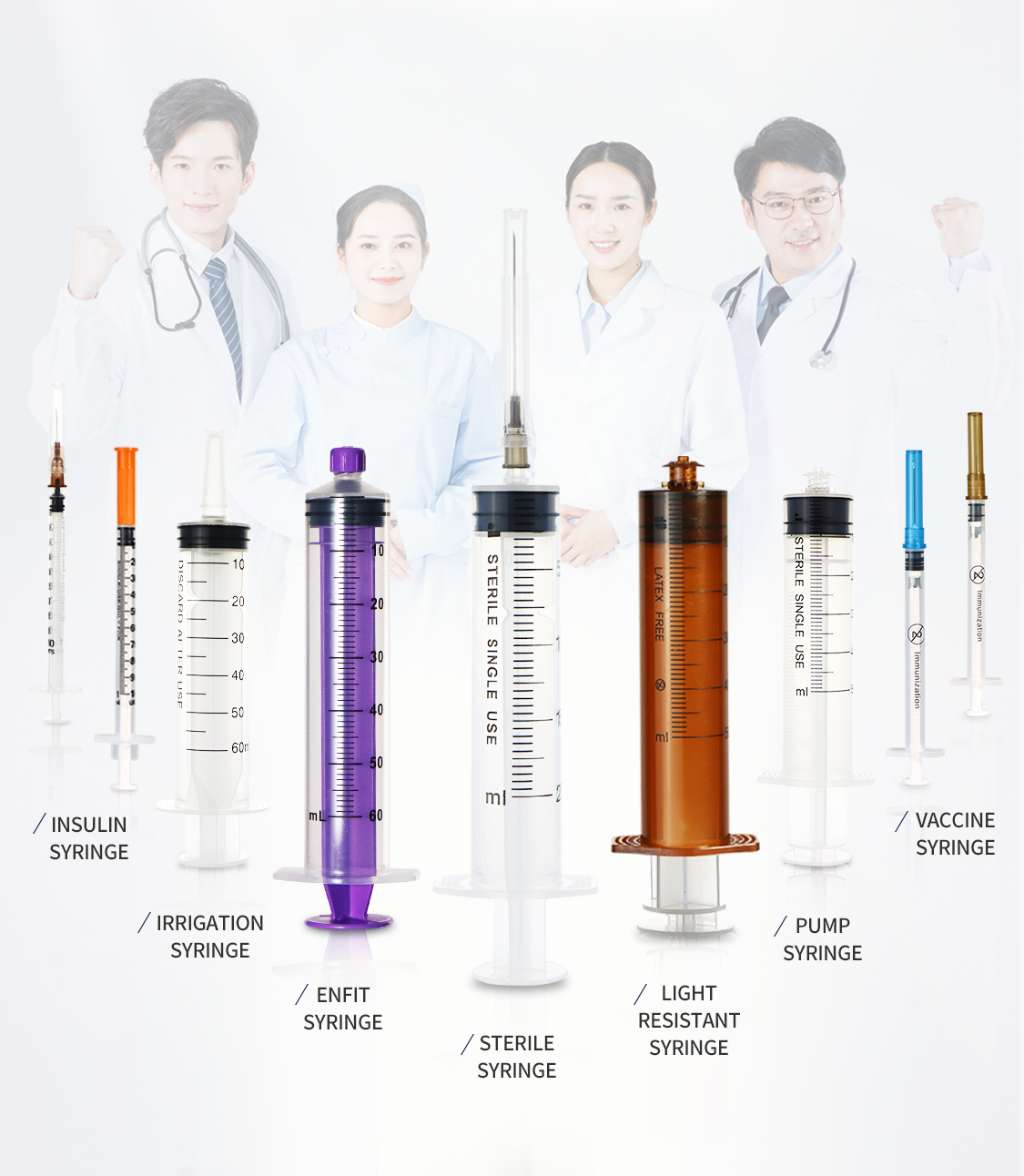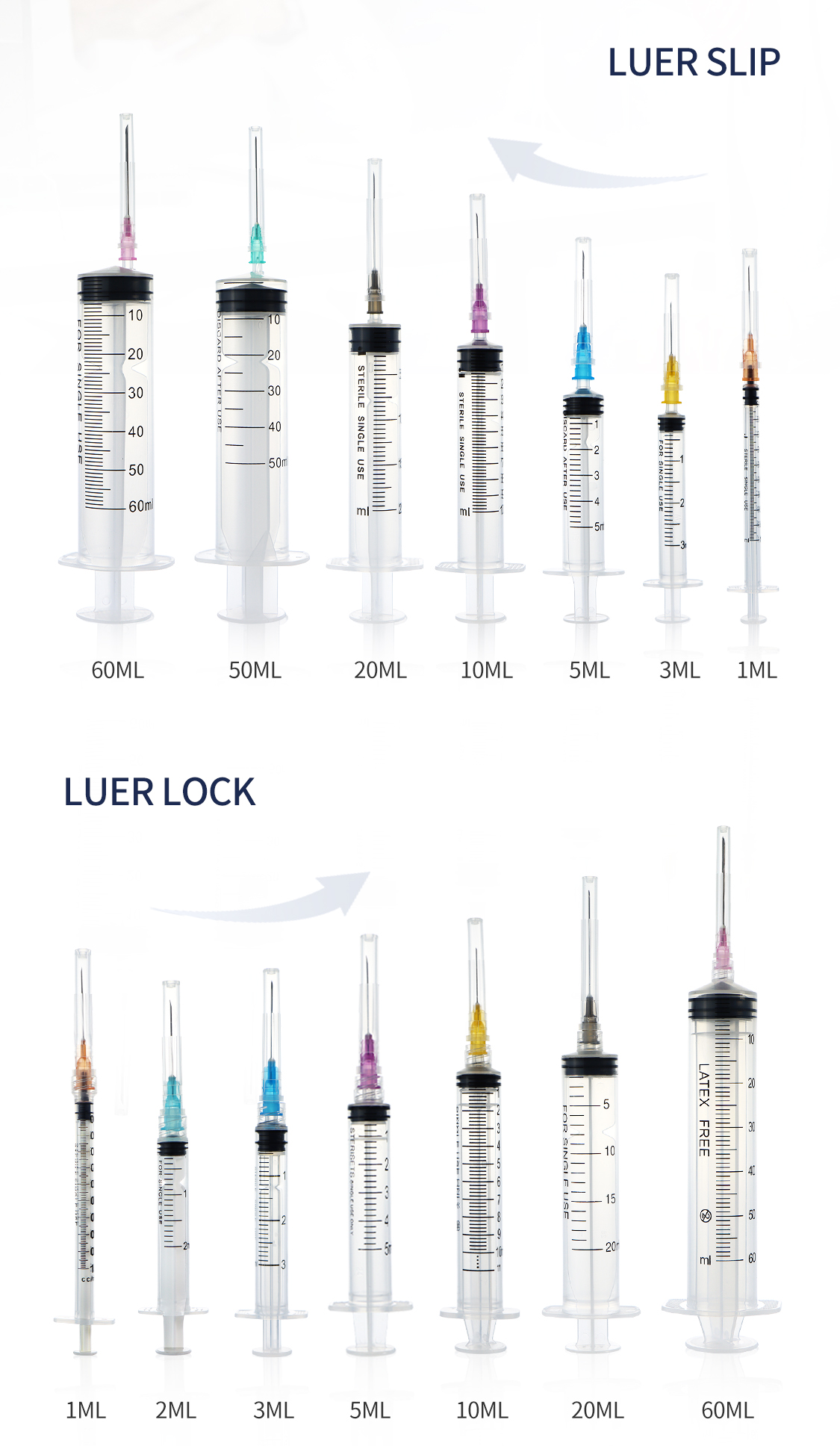 Product Use
1. PulI back the plunger to charge the syringe with solution.2. Press plunger forward to complete injection until it reaches the stop position. Lock mechanism will be activated and locks plunger in stop position. An audible"Click"will sound.
3. Forcing the plunger backward will cause it to break dispose safety in a disposable container.
Product Application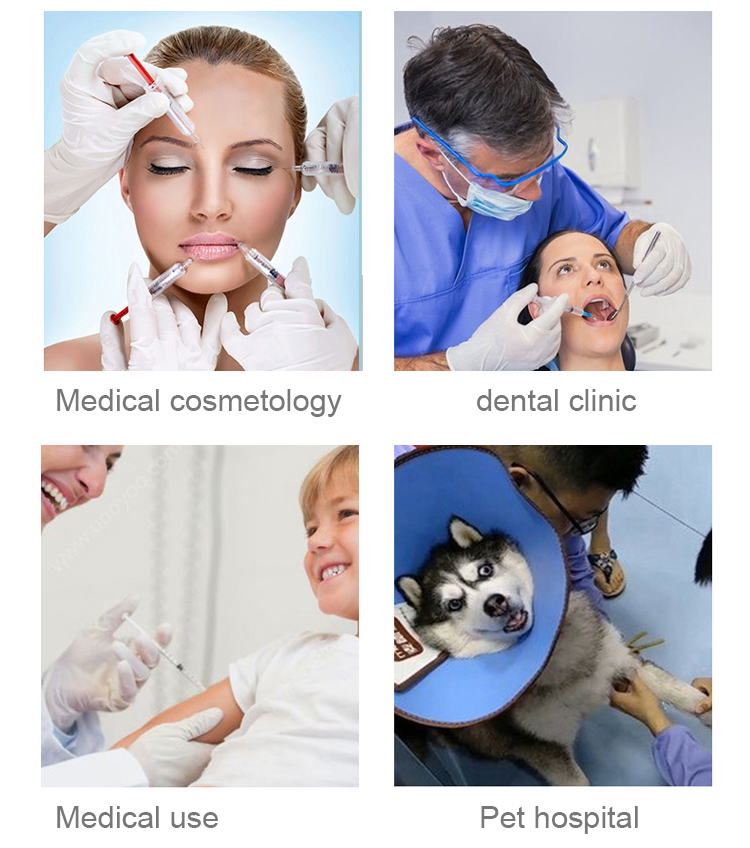 View full details